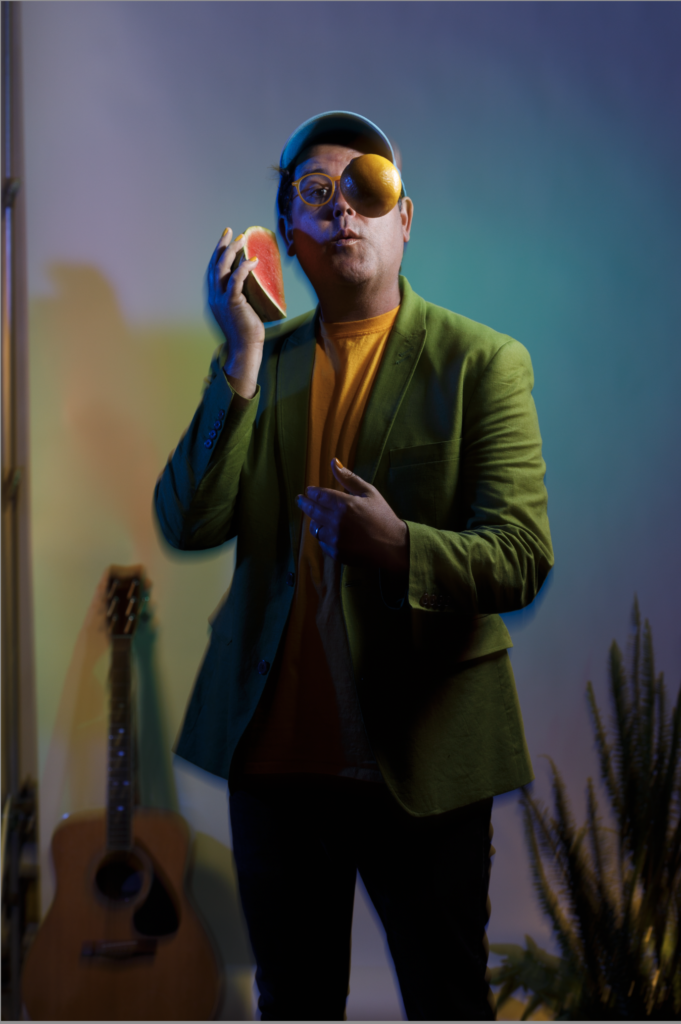 Caleb Nichols (he/they) is a writer from California, occupying Tilhini, the Place of the Full Moon, the unceded territory of the yak titʸu titʸu yak tiłhini tribe. His poetry has been featured in Hoax, Redivider, DEAR Poetry Journal & other places & his chapbook Teems///\\\Recedes was published Kelp Books in 2021. He is a PhD candidate in creative writing at Bangor University in Wales & he is the founder of the SLO Book Bike, a queer-owned, bike-powered, pop-up bookshop in San Luis Obispo, CA.
Your chapbook TEEMS///\\\RECEDES reads like one big invitation to get out into the world and be a part of it—we're reminded that we're a part of the natural world, as separate and as separated as we may feel. Did you write this collection with a specific type of reader in mind?
I am always thinking of fellow poets when I write, but I am also thinking of people who aren't as familiar with poetry and what they might take away from an encounter with one of my poems. It's funny you should mention that it reads like an invitation, because most of it was written during the early days of the pandemic, and I was battling a resurgence of panic attacks and anxiety that felt almost like agoraphobia. So maybe I was inviting myself to continue to have a relationship with the world despite this difficulty!
As one reads these poems, they're taken seamlessly from one location to the next, from something as quiet as a morning dog walk to something as grand as celestial speculation and the sky above us. You demonstrate a true sense of care for the reader's experience by making these transitions seamless, as though we're watching the world go by without thinking too much about where we've been or where we're headed; there's an honest and authentic appreciation for the now. Will you tell us how did you determined the run order and what kind of reading experience you hoped to create?
The "now-ness" of the poems is pretty intentional and part of my poetic practice of trying to attend to the moment, so I'm glad you picked up on that! In terms of the experience, yes, I wanted to order the poems in a way that replicated the movements of tides as experienced by creatures in tidepools, beginning with a fullness that sort of "remembers" the ebb and then, by degrees, I hoped the poems would start to feel more and more "empty" or at least meditate on that sort of emptiness. The final poem is a long (for me) poem about the deaths of literally millions of birds that happened as the result of one of the many impossibly large wildfires we've been experiencing in the western United States.
Some of these poems are super compact — as condensed as three lines comprising a single sentence — while others stretch onto multiple pages. Each has a feeling of completion and inherent simplicity, even when you're describing something grand or complex. How do you determine the "done-ness" of a poem as you're working, especially for the more quiet ones?
Hmm, "done-ness" is very tricky, isn't it? For me this is pretty intuitive, but I also have this perhaps odd personal belief that a poem (or really any piece of art) is never "done." It's always possible for the poem to change. For example, the poem does change forever as it's read by different people. Like, it's always different in different brains, or spoken by different voices, or even reprinted in different fonts. And then there's the possibility that someone does something else with a poem — uses it in another poem, or in a song, or as an epigraph. So I'm not so precious with poems, even in a book, because I think they are alive and might well change into something else entirely!
There's a line in your poem "Beach Season" where the speaker mistakes a piece of dried bull kelp for a discarded snakeskin, then ruminates on how it's "still evidence / of change / though somewhat less / dramatic." Along these lines, have you noticed any quiet ways that your writing has changed since you penned and published these poems?
I'm really pushing myself these days to be less "on the nose" in some senses. I'm working on a PhD dissertation at Bangor University and my advisor/supervisor is Zoë Skoulding (I'd highly recommend Zoë's book, The Museum of Disappearing Sounds, if you can find a copy, or Footnotes to Water, which recently won Wales Poetry Book of the Year). Zoë delves into sort of experimental world at times, and we are having great conversations around ways to shepherd some of my ideas into other modes of being. I'm spending a lot of time thinking about the space the words themselves occupy on the page, for example, but also thinking about things like punctuation and breath and sound. But, like the snakeskin/bull kelp image, I haven't noticed an intense transformation just yet! It's still me walking around writing poems on the notes app of my phone.
There is so much possibility for play in poetry, as you remind us by mimicking waves in your collection's title with three forward slashes and three backslashes. When you're drafting, how do you get into a mind space where you can cast off the confines of grammar, punctuation, and style rules and, to quote Miss Frizzle from The Magic School Bus, "take chances, make mistakes, and get messy?"
I think it's easier to be playful and take chances if you aren't so worried about publishing and "success" which, paradoxically, I think probably increases a writer's chances for success. I come to poetry from music, which is just a much more intense place to create in and is just many orders of magnitude more limiting and brutal. Music, for starters, has much higher operating costs. It costs a lot of money to buy gear, to record songs, to tour with a band, etc. That financial cost puts a lot of pressure on an artist to make something that will resonate with as many people as possible. It can take a year to make an album or two and cost thousands of dollars (tens of thousands!), and so at the end of that you want very much to move the needle in terms of connecting with listeners. And don't even get me started about PR costs. I got a good chuckle out of "the poetry discourse" during that week that everyone was freaking out about a poet who spent a large sum of money on a publicist. I was just like, poets! Don't join a band!
I have often felt financial pressure in music, and I haven't found that conducive to making good art. The best things I've done in music have been when I've been purely focused on creativity, and so I try to bring that energy to poetry. Of course, I want to publish poems and reach readers. But it's easier for me, in poetry, to worry less about that. Writing the poems costs me nothing. It's an open Google Doc, or my notes app, or a notebook. It's me and the poem on the page. It's so gloriously simple. And so I feel good about taking chances, having fun, letting things go. And, as I mentioned before, I'm not worried about the final form of the poems, because I just think they'll continue changing, forever.
Any tips on catching or keeping ideas as they come to you? We're also fans of writing notes on our phones (as you write in "Miss You Much"), but sometimes we lose them!
Yes, the notes app is such a good thing, but so is the voice recorder app, which I mostly use for song ideas but sometimes use for words too. I also use it to listen to a poem I'm writing, to see how it sounds out loud, which is often the last stage of revision for me.
I would say don't worry if you "lose" something: it's in there somewhere and it'll come back to you.
Dedications can often feel like secret little love notes, and we were so struck by yours! Will you tell us more about Millie and why she's important to this collection?
Millie is such an important part of my life, and I think she's teaching me quite a lot about love and loss. She had a bad reaction to anesthesia and almost died while I was writing these and that really shook me. My husband and I found her at an animal shelter almost ten years ago now (she's eleven), and she's the first companion animal I've ever really let into my life. She's just been my shadow this whole time, my best friend, my constant companion, and our relationship has changed me so much. I know this is a lot to say about a dog, maybe, but it's just how it is.
Do you write from experience? From familial memory? From daydreams or fantasies?
I'd say my ideas are mostly formed from direct experience, but those experiences include memory, daydreams, fantasies, don't they? Is that a horrible way to answer that question? I think my writing has to do with bearing witness, but this gaze looks outwards and inwards, and absolutely includes a lot of interiority.
How do you honor silence, blank space, or simplicity in your writing?
By trying to do the work of condensing, as Lorine Neidecker might have said. Condense, condense, condense, in order to get at something essential. This is an area I hope to grow in.
When things have you feeling low, what's one way you seek joy or build hope?
Maybe the best answer is meditation, but I'm not always good at keeping up. Lately it's been a supplement my therapist recommended called 5-HTP which supposedly is helping my brain create more serotonin! Other things include petting Millie, giving her treats, walking on the beach, connecting with friends or also just writing and reading. I'm an optimist who has a long history with anxiety and panic disorder (I have a nonfiction chapbook about my experience out in 2022 from Broken Sleep Books) and these experiences, somewhat paradoxically, have actually helped me to dig a deeper sort of well for joy.
Who is one writer you wish more people would read?
My favorite "emerging" poet is Mícheál McCann, who hails from Northern Ireland. I found his writing via 14 Poems, a queer poetry anthology based in England, and then picked up his chapbook "Safe Home" which I highly recommend. He tweets @micklemccann.
What's the best bit of craft advice you've been given? Are there any craft books you'd recommend?
That the endings of poems shouldn't be an end but an opening into possibility. My favorite craft-ish book so far is Mary Ruefle's collection of essays Madness, Rack, and Honey.
And what are you currently reading?
I just started a dissertation on queer ecopoetics, so I'm reading a lot of theory. I'm trying to wrap my head around some heady stuff (Foucault and the like) more than I have in the past to give myself a foundation to try to talk about sex, nature, queerness and how all of these things intersect in poetry. I recently read the new Jonathan Franzen and I'm a fan. I'm also reading the newest Karl Ove Knausgaard and I'm sort of floored by it. In poetry land I'm reading Benjamin Garcia's Thrown in the Throat.
Where do you write? Do you have any rituals you follow before turning to the page?
I write in my living room often, but we just moved and I haven't quite figured out where my zone will be. But honestly, so much writing happens in my head during walks, or bike rides, or in bed, ends up in my notes app, then gets sifted into a google doc, and over time simmers into a poem. Then once in a while there is just a lightning strike and a poem arrives, fully formed, in my brain, like a strange baby demi-god.
Any good news you'd like to share with our readers?
I am also a musician and recently signed a deal with my dream indie label, Kill Rock Stars (home of Elliott Smith, the Decemberists, Deerhoof, Thao, Mirah, Sleater Kinney and so so many more). My first ep came out last year and my full-length album is coming soon. I'd love anyone interested to find me on Spotify, Apple Music, Bandcamp or anywhere else, and you can find out more at my website, calebnicholsis.gay.