H.E. Fisher is a multi-genre writer whose work appears or is forthcoming in Indianapolis Review, Anti-Heroin Chic, Canary, Poetica Review, Miracle Monocle, SWWIM, and The Rumpus, among other publications. H.E. studies at the Hudson Valley Writers Center and is pursuing their MFA in Creative Writing at City College of New York, where they received the 2019 Stark Poetry Prize in Memory of Raymond Patterson. H.E. is the editor of (Re) An Ideas Journal. They live in the Hudson River Valley.
What's the best bit of craft advice you've been given?
I had the opportunity to take a class with Nicole Sealey at City College, where I'm pursuing my MFA. Nicole talked about being patient with a poem, to take your time. I'm not patient by nature, but I think it is helpful to take it slow and allow the work to develop as needed. I also love Jericho Brown's wisdom: let the poem reveal what it's about; write to discover what you are writing about. (I'm paraphrasing.)
Okay, now what's the worst?
"Write every day." Maybe you will, maybe you won't. I can be binge-watching The Walking Dead, cooking, sleeping, talking on the phone. It's all writing; percolating is writing. But I do think writing as often as possible is helpful, editing, too — [and] sharing your own work and reading and editing other peoples'.
Do you have any advice for writers who are just starting out?
Read. Read everything you can get your hands on, and go beyond the so-called "classics." Take a workshop or courses to get feedback on your writing and to put the work "on its feet" and to build a community. If workshops or courses are not accessible or affordable, try to find another writer(s) who can meet with you on an ongoing basis. Online works great.
In your writing, where does truth comingle with imagination?
Everywhere, at every point. My imagination does a good job helping me find what I am seeking. I think, too, there's a difference between truth and authenticity.
Do you write from experience? From familial memory? From daydreams or fantasies?
I write mostly from experience, memories, impressions, what I read and learn.
If you have a regular writing practice, what do you do to protect your writing time?
I clear the slate. I try to carve out chunks of time to write. It is such a bad feeling to be aching to write and to be pulled in a million other directions.
Where do you seek inspiration?
No one place; it's all kind of done by osmosis and memories, stuff I learn.
Picture this: you've just finished a long writing session and are between the world of the page and the reality around you. What's one action you take to root yourself back in your non-writer identity? Maybe it's making a cup of coffee or tea, perhaps it's a walk with a loved one or pet, or even some time reading another writer's work.
I love watching detective shows and reading detective novels. Doing dishes is a good transition back to the world, too, or eating a good meal. Walks are terrible. They never take me out of my head.
What are you currently reading? Books, magazines, the back of the cereal box, CVS receipts . . . it all counts!
I always have several books going at once. Poetry, a detective novel, creative nonfiction or a memoir. I love Orion Magazine. They have a kind of anthology out called Old Growth, which is all about trees. It's exquisite.
Where do you write? Do you have any rituals you follow before turning to the page?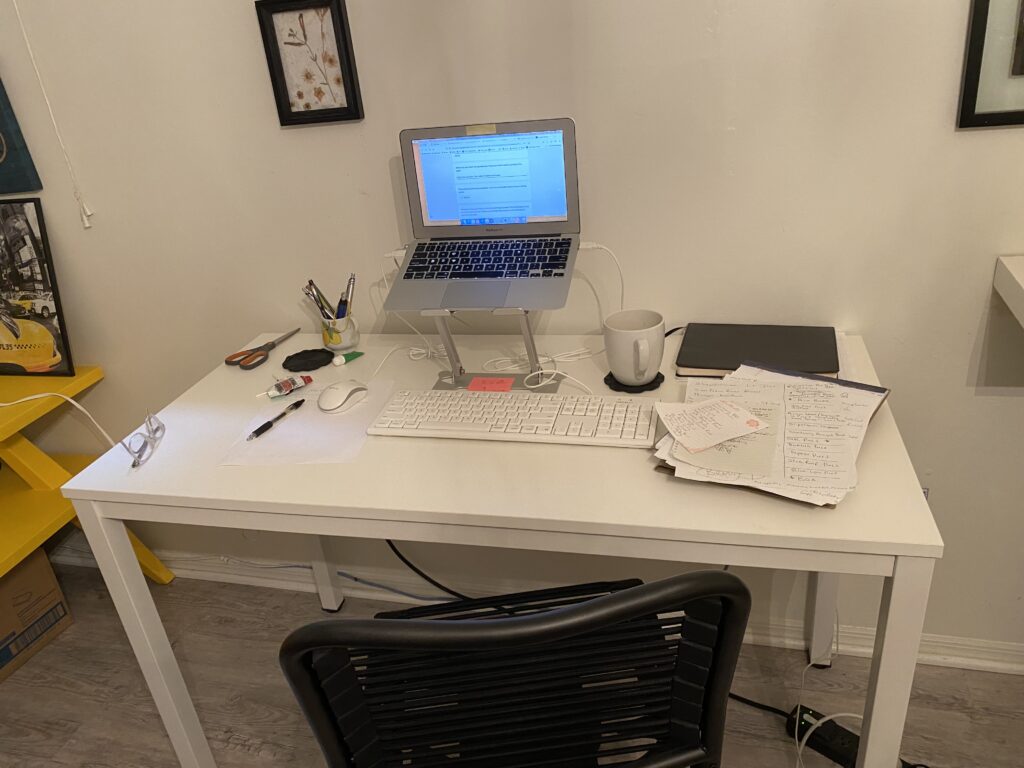 It has to be very quiet. I like it when I'm alone in the house. I have a few desk spaces that I use. The kitchen table. Lately, I've been working in my daughter's room. She's in graduate school. Her room is empty and quiet.
Lastly, tell us some good news about your writing!
I recently completed my first full-length collection and a chapbook, and I was nominated for Best of the Net. My poems, prose poems, and essays can be found at hefisher.com.