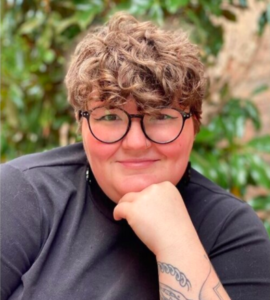 Kay E. Bancroft (they/them) is a queer non-binary poet, educator, editor, and reviewer from Cincinnati, OH. They hold a BA from the University of Cincinnati and are currently an MFA Candidate at Randolph College. You can find their writing in Cotton Xenomorph, Longleaf Review, The Rumpus, and more, with work forthcoming in the anthology Beyond Queer Words. Explore their work at kayebancroftpoet.com
What's the best bit of craft advice you've been given? Are there any craft books you'd recommend?
I have been given so much incredible craft advice because I've had the best mentors I could have asked for. I think one bit of advice that I've been given is to not let the page define what can live there, and by that I mean to not let the blank white page limit how I write. I feel that writers sometimes get hung up on the fact that there is a page, and there needs to be writing on it, which is incredibly intimidating. But things other than words can live there too — you can be as wild or as tame as you want to be on the page. Another thing which I always remember is that "everything we have done is entirely precedented," which is something Kaveh Akbar always says. With that in mind I try to make things even weirder, pushing the page even more, knowing that the precedent of other writers before me allows me to do this.
Okay, now what's the worst?
Honestly, I can't think of any? Most likely because if I heard bad advice, I probably pushed it to the side to listen to the incredible craft advice of my mentors and fellow writers.
One last advice-focused question: do you have any advice for writers who are just starting out?
Just keep trying anything and everything, and when you find a type of writing you love, or you find your "obsession" or just get the feeling that there's a path you need to head down, do it! Also, not to get discouraged when you get rejections from publications. Rejections are just doors for other acceptances.
In your writing, where does truth comingle with imagination?
There's a lot of overlap in those spaces; a lot of my personal experiences live in my writing, but imagination lives there through image and different creations of how memories are remembered. With every poem there's a strong towing of the line between the two.
Do you write from experience? From familial memory? From daydreams or fantasies?
Absolutely, all of the above. I write about anything and everything in my life — from my traumas and the queer experience, to childhood memories and things that I love. There is always a piece of me in a poem, no matter how small.
If you have a regular writing practice, what do you do to protect your writing time?
I don't have the most regular writing practice, but I know when it's time for me to write. I get this feeling, almost an aching to write and create because there's usually something I'm thinking about writing about, so I force myself to carve out the time to get it out onto the page or experiment with a document, or just get creative with words. Even if I'm about to slip into sleep, if a line or concept for a poem pops up I make myself wake up and write it in my notes app so I don't forget it. I just make the space when I know I need to write, when the urgency strikes me.
Where do you seek inspiration?
In experiences with my beloveds, in surrounding myself with different elements of the world, in the minutia of everyday life, in the words of other writers who my work is in conversation with, in the writings of my friends, in the resolutions of my traumas, and in myself.
How do you honor silence, blank space, or simplicity in your writing?
Blank space and silence on the page are huge players in a lot of my writing because I like to play around with hybrid forms of erasure and weird structure. I honor them because I love them — they frame the way readers experience your poems, the way it hits them from the first glance, and that's so incredibly important.
When things have you feeling low, what's one way you seek joy or build hope?
I seek joy through talking with the people I love, through spending time with my fiancé and our pets, through reading poems I love, and through doing things that provide me with some sense of comfort. I make time for comforting rituals like making coffee or tea, and spend time with the things that make me feel most centered.
Who is one writer you wish more people would read?
Honestly, I just wish people would read more diverse writers. I wish people would read more queer writers, more writers of color, more neurodivergent writers, more of everyone. There are so many writers that I love and want everyone to read, but if I had to pick only two, they would be Krista Franklin and Rachel McKibbens.
Picture this: you've just finished a long writing session and are between the world of the page and the reality around you. What's one action you take to root yourself back in your non-writer identity? Maybe it's making a cup of coffee or tea, perhaps it's a walk with a loved one or pet, or even some time reading another writer's work.
I haven't really thought about this process a lot before, but I ultimately ground myself by making tea and talking to my partner or reading poetry that has been on my TBR list for a while. Just something cozy that brings me joy.
What are you currently reading? Books, magazines, the back of the cereal box, CVS receipts . . . it all counts!
I'm currently reading so much! Aracelis Girmay's The Black Maria, Shira Erlichman's Odes to Lithium, Krista Franklin's Too Much Midnight, the list goes on!
Where do you write? Do you have any rituals you follow before turning to the page?
I write mostly at home, either at my desk or on my couch, both places I tend to focus a lot of the time. I don't have any rituals, per se, but I do need to have snacks & drinks by my side at all times, and a list of different things I've been working on recently. I like to have little ideas that I've collected by my side as I write.
Any good news you'd like us to include with this interview? This is the space to let us know where else our readers can connect with you and celebrate/support your creative work.
I've recently been writing some reviews/interviews & getting some poems out there! You can find it all on my website kayemoorepoet.com or find me on social media @kay.e.moore.poet on Instagram and @KayEMoorePoet on Twitter to find out what I'm up to, what I'm reading, and what I'm writing!