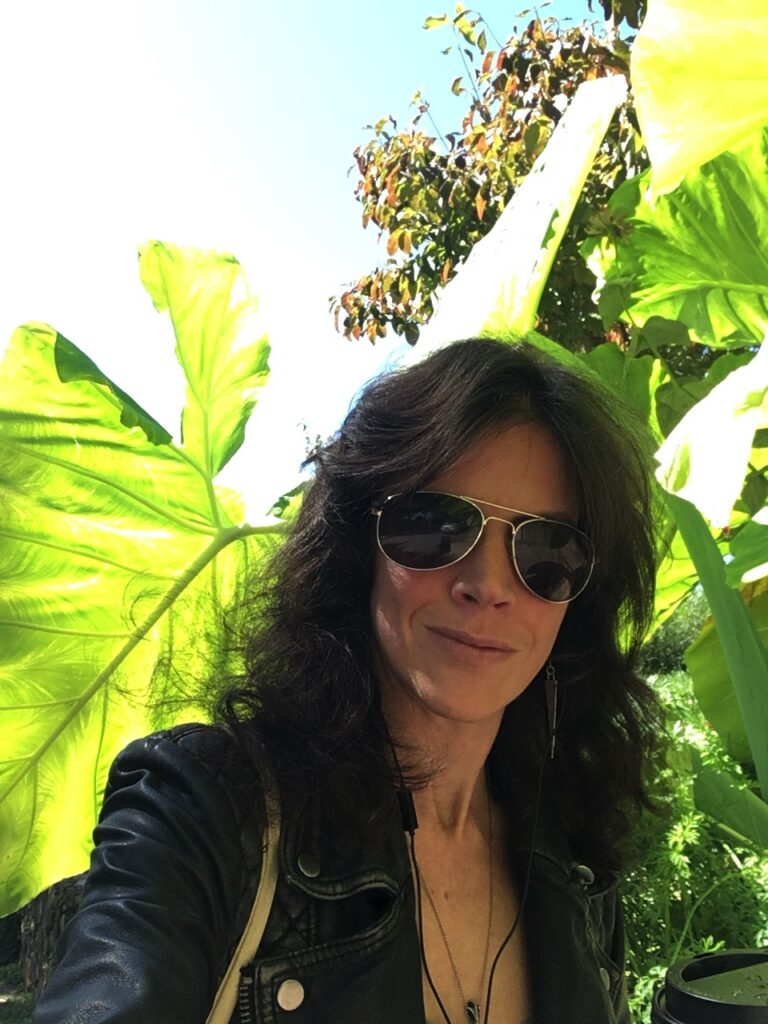 Lindsey Pharr (she/her) is a Mississippi native living in a cabin in the woods outside of Marshall, North Carolina. Her flash fiction has appeared in Sledgehammer Lit and her CNF in The Great Smokies Review.
What's the best bit of craft advice you've been given? Are there any craft books you'd recommend?
Annie Frazier is an incredible writing teacher, and we used Alice LaPlante's super rich craft book, The Making of a Story, in her class. And if you want to hear Flannery O'Connor get delightfully salty, check out her essay "The Nature and Aim of Fiction." I love that essay so much [that] I want to quote the entire thing here, but I'll restrain myself.
Do you have any advice for writers who are just starting out?
I just got to this party myself, let's stash our coats somewhere and go find the snack table. Then let's sit in the corner and intently watch people while slowly munching bruschetta.
In your writing, where does truth comingle with imagination?
It's mostly truth for now, but I'm hoping that as I grow as a writer (and honestly as a person), I'll be able to listen more to my imagination. It's just so soft-spoken.
Do you write from experience? From familial memory? From daydreams or fantasies?
So far, everything I've written has come from personal experiences. I have PTSD, which fragments a lot of my memory and perception. Writing helps me integrate those fragments into a narrative, which is a major goal of healing trauma. I really look forward to seeing what lies beyond healing in my writing and what will happen when more and more access to previously closed-off parts of my brain open up.
If you have a regular writing practice, what do you do to protect your writing time?
I'm terribly undisciplined, but once I'm writing, the phone gets kicked to the curb. It also helps that I live alone in the woods and have no social life anyway.
Where do you seek inspiration?
My whole life, I have been drawn to larger-than-life people. I listen to their stories avidly. I've also worked in a beauty parlor and as a waitress, which are absolute gold mines for eavesdropping.
How do you honor silence, blank space, or simplicity in your writing?
I love this question! I love writing that's been distilled like moonshine, taken down to its most powerful, purest essence. I love a sentence that cuts deep so, so much.
When things have you feeling low, what's one way you seek joy or build hope?
I go for a hike.
Who is one writer you wish more people would read?
During a very difficult part of my life, I found a book at a little free library in my neighborhood. It's called Opal: The Journal of an Understanding Heart by Opal Whitely. It's the journal of a six-year-old orphan girl living in an Oregon lumber camp at the turn of the 20th century. The way this extraordinary, gifted child described the world around her went straight to my heart and never left. I had never read something that sounded like the voice inside my head. I had never felt so seen and understood. All that's to say, I hope everyone finds a book that sounds like the voice inside their head because it's an incredibly powerful experience. And maybe someone will read something that I have written and it will sound like the voice inside their head and they will feel a little more seen! Isn't that possibility terrifying and exciting?
Picture this: you've just finished a long writing session and are between the world of the page and the reality around you. What's one action you take to root yourself back in your non-writer identity? Maybe it's making a cup of coffee or tea, perhaps it's a walk with a loved one or pet, or even some time reading another writer's work.
Writing really is a helluva drug, isn't it? I literally go outside and put my hands and feet in the dirt. I can't think of a better way to literally ground myself.
What are you currently reading? Books, magazines, the back of the cereal box, CVS receipts . . . it all counts!
I'm an audiobook addict, I use the Libby app and listen to audiobooks through my local library all the time. I tend to go for "comfort" books to listen to, so at the moment I am tearing through murder mysteries like a macabre little old lady. I'm reading Rachel Harper's This Side of Providence, which is so gritty and beautiful simultaneously. I'm also reading Hurts So Good: The Science and Culture of Pain on Purpose by Leigh Cowart, an amazing science book by a local author. Karen Russell's short story "The Ghost Birds," which appeared in the October 11 issue of The New Yorker, blew my mind so much that it's still sitting here on my kitchen table where I can stare at it in wonder.
Any good news you'd like share?
I'm so grateful and excited to be here! I'm beginning my first semester as an MFA student in Spalding University's Creative and Professional Writing Program, which is so exciting and scary, I can't wait.