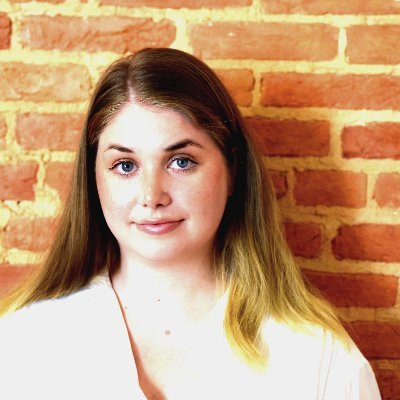 Deirdre Danklin holds an MFA from Johns Hopkins University. She's on Twitter @DanklinDeirdre, and her website is deirdredanklin.com. She lives in Baltimore with her husband and two cats.
Deirdre Danklin's Catastrophe is a lush gut-punch of a novella that deftly explores the profound connection between two women who have been friends since their youth. In the wake of an unspecified catastrophe, one absconds with her family for the safety of the woods while the other remains in the desert. Though the two friends are far apart, they continue to address each other via internal monologues that blend their shared past with their separate present. As it turns out, the woman in the desert can read her old friend's mind.
Friendships are rarely ever only about the present moment. An entire history exists within the smallest interaction, the briefest conversation. As this richly nostalgic story continues to pull from the two women's history, we come to see the ways their relationship has shaped their path forward as they fight to survive threats of violence, interpersonal discord, and the aftermath of environmental fallout. In some ways, the people we have known make us who we are, and that certainly rings true in Catastrophe.
In melding the poetic and the speculative, Deirdre shapes an unforgettable landscape from a future that feels eerily close to our present. As a reader who marks up her books, I found myself underlining lines because they were timely, emotionally resonant, or simply beautiful. I also wrote my questions in the margins, thrilled with the idea that I would be able to ask them of the author directly. After all, how often do we turn the final page of a book knowing that we'll have the chance to get every last one of our questions answered?
Over the course of our conversation for Longleaf, we discussed girlhood, superpowers, and — inevitably — the catastrophe that we've all experienced over the last several years.
♦
Catastrophe was the winner of the 2021 Clay Reynolds Novella Prize — congratulations! Can you talk about how you landed on the novella form, as opposed to a short story or full-length novel, for this narrative?
Thank you! I have a really hard time writing traditional-length short stories. I always end up with flash fiction or something a little bit too long and unwieldy to be a traditional short story. When I sat down to write Catastrophe, I wrote from beginning to end, and this is how long it came out of my head! I really enjoy novellas because I think they're the perfect length for experimentation both with prose and plot. Your reader will be on board with some nontraditional formatting, time jumping, and general weirdness in a novella that they might be confused by in a short story or frustrated with in a longer novel.
While we're still talking about form, do you believe that every narrative has a single fated "final" draft? Or can you imagine another version of Catastrophe — employing a different structure, medium, or point of view, perhaps — that still succeeds in being everything you want this story to be?
I don't think final drafts exist, really. I don't think a different POV would work for this story (or maybe I just couldn't pull off a different POV), but I do think it could be structured differently and still accomplish everything it needs to on the page. I'm sure I'll be thinking of things I could revise in this piece for the rest of my life, but at a certain point, you have to let the story go.
Kim Magowan's blurb touches on the fact that the apocalypse your two protagonists have lived through is never directly defined. In any case, it's hard not to notice certain parallels between this imagined world and our current one. Were you already working on Catastrophe when the pandemic began, or did the pandemic spark the idea?
I got the idea for Catastrophe while on a vacation with my family. Usually, my mom, dad, sister, brother-in-law, nephew, husband, and I go to the beach every year on vacation. We were all in each other's COVID bubble in the early days of the pandemic, and we thought an isolated cabin in the woods was a better idea — no crowds, no stores, no beaches. I remember feeling very lucky to be up on that mountain — everyone had the privilege of working from home, and we could afford to go on vacation — and it made me think of what we would do if the pandemic was a more catastrophic event. Would we survive because we had enough money to survive? Would we deserve to? So, one half of the narrative definitely came out of that experience.
Catastrophe is classified as fantasy, and there are certainly elements of genre present throughout: healing powers, a little light fortune-telling, a whole lot of thought-reading, and more. Did the abilities spring up naturally from the character's personality as you wrote, or did you build the character around the idea that she had these abilities?
Some of the magic was definitely built in because of the point of view. These characters are communicating telepathically, so they have to have a certain set of supernatural powers. Then, I built the woman in the desert around her powers. I wanted her to have abilities that, instead of making her more powerful, make her more vulnerable — like the healing powers that take energy from her body and the telepathic powers that frustrate her because her friend can't hear her voice. I thought it would be interesting to play with the idea of power and to explore a power imbalance in the central relationship.
We move back and forth between two women's perspectives as the narrative unfolds. Because both are written in first person, there's a kind of blending that occurs within the text; in some moments it's as if the two friends are melding into a single self. Was Catastrophe always one story told by two characters, or did you come to one woman's voice through the other?
Every longer narrative I write ends up being a conversation between two women. I find it easier to have two characters who embody different aspects of womanhood, including its expectations, limitations, powers, and vulnerabilities. Then they can play off of each other. You could definitely blend these two characters together a bit, especially because they are so close to each other, they are in each other's heads, and they grew up in the same environment.
It's especially interesting to me that the telepathic connection between the two women is not completely mutual; the woman in the desert can hear her friend's thoughts, but the woman in the cabin hears nothing. The one-sided quality of their communication reflects the imbalance that sometimes arises in long-term friendships. Was that your intent? Where did the idea come from?
That was exactly my intent! I'm always interested in how relationships grow and change over time, especially long-term friendships that start in childhood. I think there's a really interesting evolution to explore there, especially when the friends' lives go in completely different directions.
In their youth, the two girls cut their palms with a pair of scissors and pledge that their friendship will never die. Now that they're older, their shared recollections are littered with similar interactions, these intense moments of youthful commitment. Did any of these echo your own experience of adolescent friendship?
Oh, for sure. I went to an all-girls Catholic school, and there's nothing creepier or more intense than a friendship pledge between fourteen-year-old girls. There's a certain point in your life (or my life, anyway) when your friends are the most important people. They're who you measure yourself against and who tell you who you are.
I also went through a pretty intense witch phase that has never really ended. One of my dear friends from grad school picked me up a rose quartz skull from Salem, Massachusetts, because she thought I should have it. My first published flash fiction was titled "How to Start a Coven." On one level, the blood pledge was an excuse for the telepathy — what if our adolescent covens had actual magical powers? — and on another, it was an example of how safe things and spaces (safety scissors, school, family) can turn out to be not-so-safe.
Each of the book's four parts begins with a quote (from Anne Carson, Fleur Jaeggy, Virginia Woolf, and Franny Choi respectively). Can you talk about these writers' influences on your work?
I love all of these writers! Anne Carson's experimentation with form really blew my mind at a time when I thought linear narrative told through traditional scene structure was the only way to get published.
I read The Water Statues by Fleur Jaeggy while revising Catastrophe, and I thought This is bonkers! Jaeggy doesn't care if you're following what's going on, you need to catch up! I admired that confidence, and I tried to imbue Catastrophe with some of that narrative certainty.
I have a giant portrait of Virginia Woolf hanging over my writing desk. She was the first woman writer I was exposed to who was taken seriously in the Western canon, when I still thought that was an important thing. I loved her for being cerebral and complicated and sad and messy, and I loved how her intense female relationships informed her writing.
Franny Choi's Soft Science is a magical poetry collection, and I think everyone should read it. Her poem "Catastrophe Is Next to Godliness" inspired my title, and her language is stunning.
Also, obviously, I chose quotes from these writers that had the word catastrophe in them because I wanted to show the different ways that word is used and interpreted.
What are some of Catastrophe's other influences?
Ah, so many! I love the writer and musician , and her short novels/novellas Paradise Rot and Girls Against God are intense and cover a lot of the same female relationships, coming-of-age, weird-magical-stuff ground that my own work covers. Her music is also so atmospheric and so cool. I also love the music of Sevdaliza, an Iranian-Dutch musician who has a beautiful voice and who experiments with form in the most challenging and rewarding ways.
When it comes to art, I love Hilma af Klint — an abstract pioneer who thought she was channeling spirits when creating her beautiful otherworldly paintings. I read Hilma af Klint: A Pioneer of Abstraction by Iris Müller-Westermann while working on revising Catastrophe, and it really made me think of colors and shapes and their symbolism on the page. I also love the witchy art of Gertrude Abercrombie, and I have a print of her painting "The Stroll" hanging over my writing desk (next to Virginia Woolf).
I am way less highbrow when it comes to movies. My husband and I go over to my sister and brother-in-law's house for movie nights pretty regularly, and we spent months watching silly '90s action movies like Point Break, Roadhouse, and Speed. I love the confidence with which these movies present the audience with totally ridiculous scenarios — they just didn't finish building that stretch of highway, really? Patrick Swayze is a world-famous dive-bar bouncer? Keanu is just going to jump out of that airplane with a gun in his hand? — and they helped remind me not to feel the need to over-justify the narrative risks I was taking. If you do something with enough panache, your reader is going to follow along.
It's possible that Catastrophe may be some readers' first experience of the novella form. What other novellas should these readers seek out next?
I love this question! Often, novella-length works get branded as novels because it's easier to market and sell a novel, so don't be alarmed if you see "A Novel" on the cover of some of these suggestions — they are all under 200 pages.
Giovanni's Room by James Baldwin
Passing and Quicksand by Nella Larsen
Paradise Rot by Jenny Hval
His Name Was Death by Rafael Bernal
Stranger to the Moon by Evelio Rosero
Space Invaders by Nona Fernández
The White Book and The Vegetarian by Han Kang
Fra Keeler by Azareen Van der Vliet Oloomi
The Wallcreeper by Nell Zink
The Collection by Nina Leger
The Taiga Syndrome and The Iliac Crest by Cristina Rivera Garza
Fever Dream by Samanta Schweblin
Cold Enough for Snow by Jessica Au