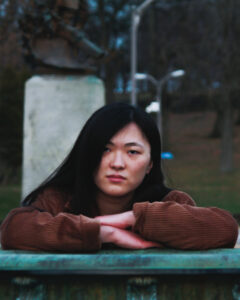 Kimberly Rooney 高小荣 is a Chinese-American adoptee from Jiangsu Province. They now live in Pittsburgh, Pennsylvania, and their writing has appeared in The Offing, Jellyfish Review, Chestnut Review, Waxwing Magazine, and more. When they aren't writing or working, they enjoy calligraphy, singing, and crocheting.
Does your writing ever surprise you? In what ways?
Yes! I'm constantly surprised by what a story or essay decides to become. I often shelve a piece indefinitely when I feel like I just don't know how it ends or who a character is quite yet. Sometimes it takes months to return to a piece because I need time to become the version of myself who knows how the piece ends. It might be a new life experience or friendship — or temporal distance from an experience or relationship ending — that helps contextualize the missing pieces, and I love the process of discovery that comes with writing.
What part of the writing process brings you the most joy?
Writing is a very reflective art for me. I enjoy learning more about myself as I write, and from others as they share their writing.
How do you preserve that joy in your writing in the face of rejections or setbacks?
I've been doing "sentence Fridays" with a few friends to keep us accountable in the habit of writing, and it's always so fun to see what new ideas and forms they're exploring.
Do you have a specific revision process? If so, how long do you let something you're working on rest before you begin revising? Do you share it with anyone, and how do you know when it's ready for submission?
I try to let a finished piece sit for at least a week before returning to it, but I often break my own rule and go back in later that day for minor revisions. I usually share it with sentence Friday friends immediately. When it comes to submitting, I'm trying to be more conscious of whether I'm ready for the information in a piece to be out in the world in addition to whether the submission is "ready." A lot of my work draws from personal experiences, including traumatic ones, and when I first started submitting, I didn't realize how unprepared I was for that information to be out of my hands. As for the writing itself, I tend to return to the start of the process: Is the piece doing what I set out for it to do? If not, does it feel like it has become what it was trying to become?
Writing is most often a labor of love, where gratification is self-defined and can sometimes be delayed or subdued. What motivates you to keep coming back to the page?
For most of my life, writing has been my primary mode of reflection and meditation. It's very grounding, and I don't like how I feel if I don't write for too long.
Do you think a writer's nerves or anxieties about their work can positively affect it?
My anxiety is detrimental to my writing. It puts me in a headspace where I can't write, or at least have significant difficulty writing. Working with my therapist and taking steps to ensure that I'm mentally, emotionally, and spiritually healthy tends to have the greatest positive effect.
Rest is arguably as important as getting the words down, especially when we can give our brains a true rest and let them wander as they wish. What do you do to embrace this time and honor it as a space for regeneration, imagination, and possibility?
I love naps. When I'm awake but still resting, I try to do other creative activities that nourish me — practicing guitar and singing, painting calligraphy, crocheting, and sewing. Going for walks alone is also meditative and helps me reconnect with my body.
Where do you write? Do you have any rituals you follow before turning to the page?
I tend to write on my laptop while wearing headphones but not listening to music. Listening to the rhythm of sentences is key to my writing, so relative silence is important. I live in a small studio, so I often write in bed, but when I'm at my partner's apartment I like writing on his couch while he practices double bass.
What conversations do you hope your writing (either a specific piece, or your full body of work) might spark for readers?
Do I feel at home? What is the relationship between love and absence?
Who is one writer you wish more people would read?
Yiyun Li's Where Reasons End devastated me, and I'm trying to read more of her work. I'd love if others read more of her work so we could talk about them.
What's the best bit of craft advice you've been given, or some of your own that you'd like to share? Are there any craft books you'd recommend?
Learn how to listen. Also, not everyone is going to understand your writing, and that's OK. I sometimes felt like many of my classmates were focused on the Chinese or queer aspects of my stories and not looking at the rest of my writing, and I didn't want to tamp down on those parts of myself in order to receive feedback in the ways that my white peers did. Finding your community can be hard, but it's very worth it.
What words of kindness, support, or advice can you offer to writers who are just starting out or seeking their stride?
Writing is a habit, and like any other, you have to put in time to build and maintain it. I hope you find your rhythm, and may your writing fulfill and nourish you. 加油!
Any good news you'd like to share?
I just started as a prose reader over at Chestnut Review! It's a paying market, and I'd love if you sent work our way. My essay, "Names | 姓名," which was in their winter 2021 edition, was a finalist for the Best of the Net 2022, and their editors, who helped polish the essay into its current form, were wonderful to work with. If you'd like to connect, I'm @kimlypso on Twitter, and you can always drop me a line on my website: kimrooneywrites.com.